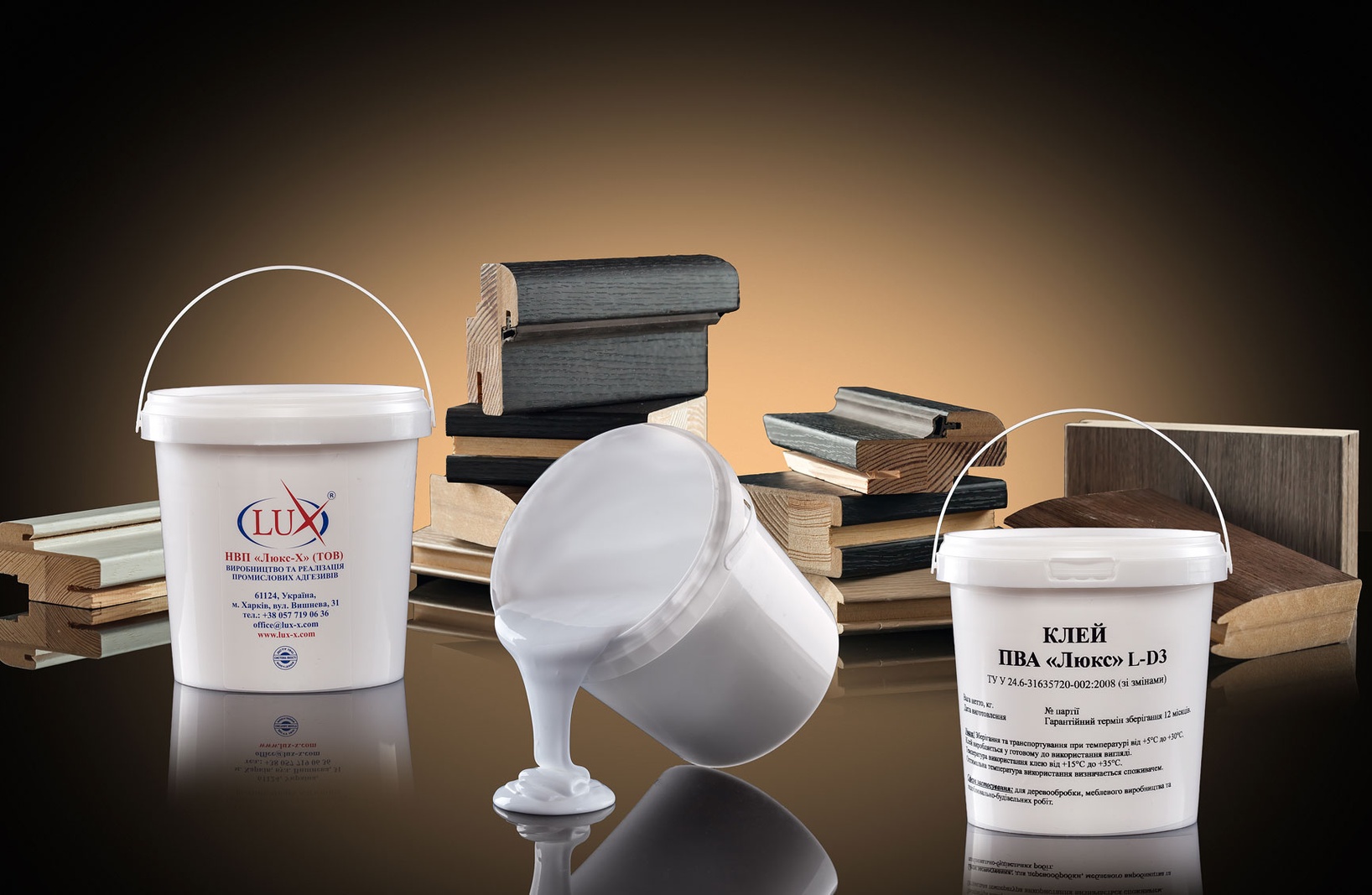 In the production of various products it is important to use high-quality adhesive materials capable of ensuring reliable bonding of surfaces and guarantee their continued operation. SPE «LUX-X» (LLC) represents a product of its own design - PVAc "Lux" L-D3 adhesive.
This glue, like all modifications of the line of waterproof PVAc "Lux" adhesives, is based on polyvinyl acetate with components that provide waterproof properties for the products to be bonded and is safe for human health.
The adhesive seam meets the requirements of the State Standards of Ukraine БВ.2.6-170:2011, analogue of the water resistance D3.
Applications of PVAc "Lux" L-D3 Adhesive
In the woodworking industry and when gluing various materials.
In the production of furniture for bonding of its individual elements.
When gluing chipboard, fiberboard, MDF, plywood and other materials.
PVAc "Lux" L-D3 Adhesive characteristics
PVAc "Lux" L-D3 adhesive is applied when gluing smooth wooden surfaces and bonding various saw-timbers and bars with finger joints. It is used in manufacturing interior items, floor coverings to be located indoors.
Products bonded with PVAc "Lux" L-D3 is resistant to prolonged exposure to moisture, short-term exposure to running water or short-lived effects of accumulated water on the bonded products.
PVAc "Lux" L-D3 adhesive is used for in-line method of application, suitable for application by roller and disk machines. It is intended for use in hot and cold pressing, as well as manual application.
In appearance, L-D3 adhesive is a white liquid that, when dried, becomes transparent and invisible in adhesion bonds. The adhesive is produced in polymeric containers of 20 kg.
| Parameter | REGISTRATION |
| --- | --- |
| Viscosity (Rheotest, Z1, 2b, 20 °С), Pa*s | 80 - 100 |
| рН value | 4 ± 1 |
| Mass fraction of solid residue, % | 51 ± 2 |
| Open time | 3 - 8 |
| Consumption, g / m2 | 90 - 180 |
| Operating temperature, ° С | +15… +35 |
| Storage | At a temperature of + +5 ... +25 ° C in a tightly closed container |
| Form of issue: | Polymer eurocontainers from 20 to 1000 kg |
Where to buy adhesives?
When buying adhesives of LuxTM our experts guarantee the receipt of technological and information support. If necessary, technologists can come for testing. When buying over 30 kg, free delivery of the whole range of products on the territory of Ukraine is carried out.
For detailed advice from our managers, you can call the hotline (057) 719-06-36 or leave questions in the feedback form.