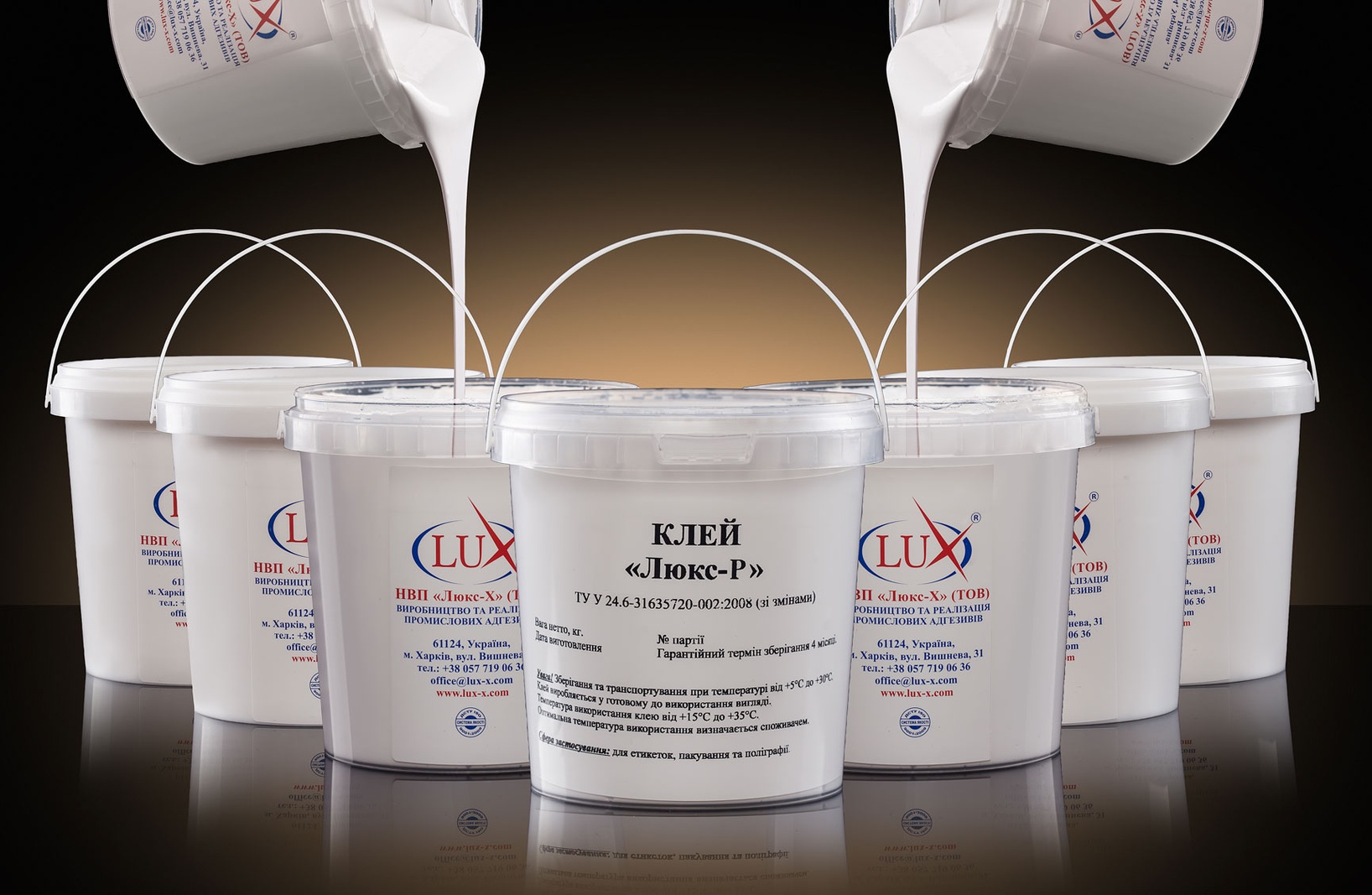 Product Feature
PVAc dispersion is a product that has a high adhesion to various materials; it's resistant to external factors. Adhesive bonding achieves a high level of strength for a short time.
PVAc dispersion physical form: white liquid; takes the form of a transparent film when it dries.
A modified water-soluble "Lux-R" adhesives (produced by the "Lux-X" company) such as "PVAc-52" and "R-20" are similar in every way to plasticized dispersion of PVAc. The adhesives are based on polyvinyl acetate dispersion, polymerization accelerators, curing agents, preservatives and stabilizing additives.
"Lux-R" line adhesives can be used for in-line application method and it matches both for the roller, disc machines and for manual application.
Application
Packaging and printing: production of paper bags, paperboard package, cardboard tube, corrugated boxes.
Woodworking and furniture industry: bonding of soft and hard woods, plywood; grooving-and-tonguing bonding, structural adhesives.
Works: linoleum and faced tile fixing; additives to whitewash solution and mortar of cement.
Textile industry: bonding of foam, leather, fabric and other materials.
Paint materials and adhesives manufacture.
PVA dispersion advantages
Unique adhesive characteristics: wood, plastic, paper can be bonded to various materials.
Resistance to water: PVAc dispersion for woodwork comply with the requirements of D2 water resistant class, can be used in hot and cold press machines.
PVAc dispersion is nontoxic and non flammable.
Fast dry speed.
Effective wetting and diving through materials provides strong bonding.
Due to hygiene requirements PVAc dispersion can be used for manufacturing baby goods, food packaging, paper, furniture and other types of products.
Please note
PVAc dispersion consumed depending on the method of application, materials and operating temperature. It's recommended to pass a compatibility test operating with other types of adhesives.
| Parameter | Values |
| --- | --- |
| Dynamic viscosity at 20 °С, Pa·s | 40 - 100 |
| рН value | 4 ± 1 |
| Dry matter, % | 51 ± 2 |
| Operating temperature, °С | +15… +35 |
| Storage | At temperature of + 5… +30 °С in tightly closed containers |
| Form | Plastic eurocontainers of 10-1000 kg |
Where to buy?
If you do need a reliable adhesive you should look for it at the "Lux-X" company.
The company produces adhesives with an impeccable reputation which are made according to European techniques and confirmed by certificate of quality.
You can choose the right adhesive among 60 ones for different types of work. Free delivery is available for orders over 30 kg.
If you have questions about prices and products assortment, please contact the hotline or via the feedback form.
Cost of Dispersion of PVAc
Dear Clients! Details on the availability of goods, wholesale and retail prices for Dispersion of PVA please contact our managers by phone or e-mail.