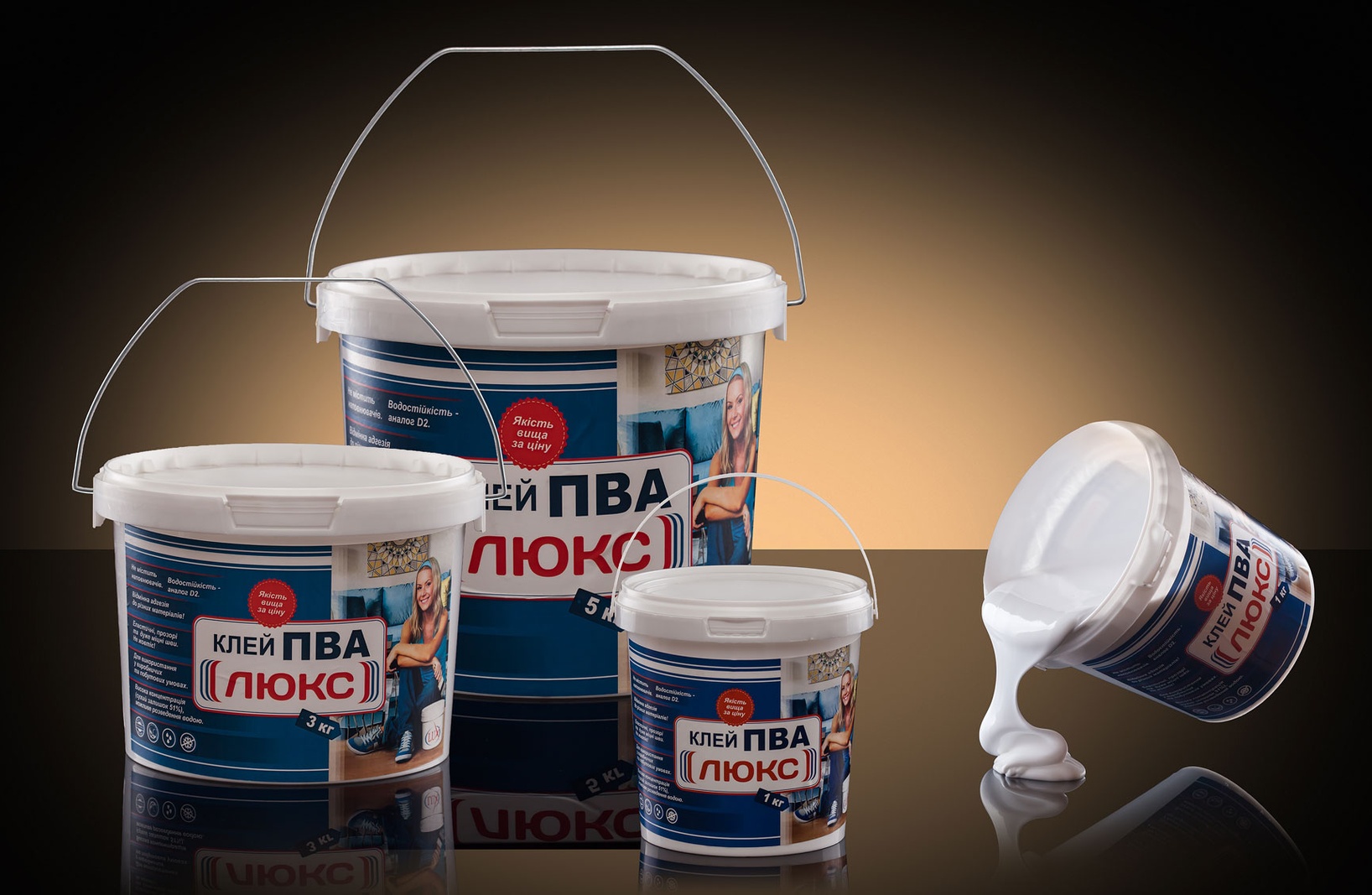 Scientific and production enterprise "Lux-X" LLC is the leading domestic producer and supplier of construction, labeling, packaging, bookbinding and other industrial adhesives. Advantages of our products have already been assessed by well-known Ukrainian and worldwide companies. Now we offer you PVAc "Lux" adhesive which is suitable not only for professionals!
Suggested application:
Woodworking and furniture manufacturing: all kinds of assembling, cleat, bonding of hard and soft woods, plywood, etc.
Different construction activities, including linoleum, facing tile bonding.
Textile industry: bonding of different materials (leather, foam and cloth products).
It is recommended as an additive in chalk and cement mortars, fillers, water-based paints, etc.
Prices for PVAc glue
| Container, kg | Price, UAH |
| --- | --- |
| 1 | 92,57 |
| 3 | 262,92 |
| 5 | 420,84 |
| 10 | 756,00 |
Dear Clients! Details on the availability of goods, wholesale and retail prices for PVAc glue please contact our managers by phone or e-mail.
PVAc adhesive advantages:
it is suitable both for domestic and industrial usage;
high concentration of basic substance;
flexible, transparent and high-strength adhesive joints. Not go yellow!
it has D2 water resistance class and can be used in wet areas;
applicable in hot and cold presses;
possible dilution with water to desired consistency before use;
excellent adhesion to various materials;
does not contain any fillers;
contains preservative additives.
Application
It is necessary to mix carefully before use. If necessary, possible dilution with water before use. An adhesive consumption depends on the application method and bonding materials.
It is necessary to prepare the surface cleaning it from dirt and dust. Apply a thin layer of adhesive on the bonding surface and withstand some time. Once connected to the other surface, press the bonding parts. After drying the bonding surfaces do not change its color.
Product properties:
White viscous liquid, colorless adhesive film.
Dry residue 51 %.
Non-toxic, non-flammable, nonhazardous.
Application temperature: from +15 to +35°С.
Warranty shelf life – one year from production date.
Storage: tightly closed at temperature from +5 to +30°С.
Packing - sealable plastic buckets of 1, 3 and 5 kg.
Industrial volumes– plastic buckets of 30 kg, 1 t container.
| Parameter | Indicators |
| --- | --- |
| Viscosity (Rheotest, Z1, 2b, 20 °С), Pa*s | 80 - 100 |
| рН value | 4 ± 1 |
| Mass fraction of dry residue, % | 51 ± 2 |
| Time of open exposure, min | 3 - 8 |
| Expenditure, g/м2 | 90 - 180 |
| Operation temperature, °С | +15… +35 |
| Storage | At the temperature from + 5… +30 °С in a tightly closed container |
| Production form | Polymer euro containers 1; 3; 5; 10; 20; 33; 1000 кг |
How to buy?
Experts of Scientific and Production Enterprise "Lux-X" (LLC) provide comprehensive consulting, technology and information support. There is a free special delivery within the territory of Ukraine in case of industrial-scale volumes. If you have questions about prices and products assortment, please contact the hotline or via the feedback form.