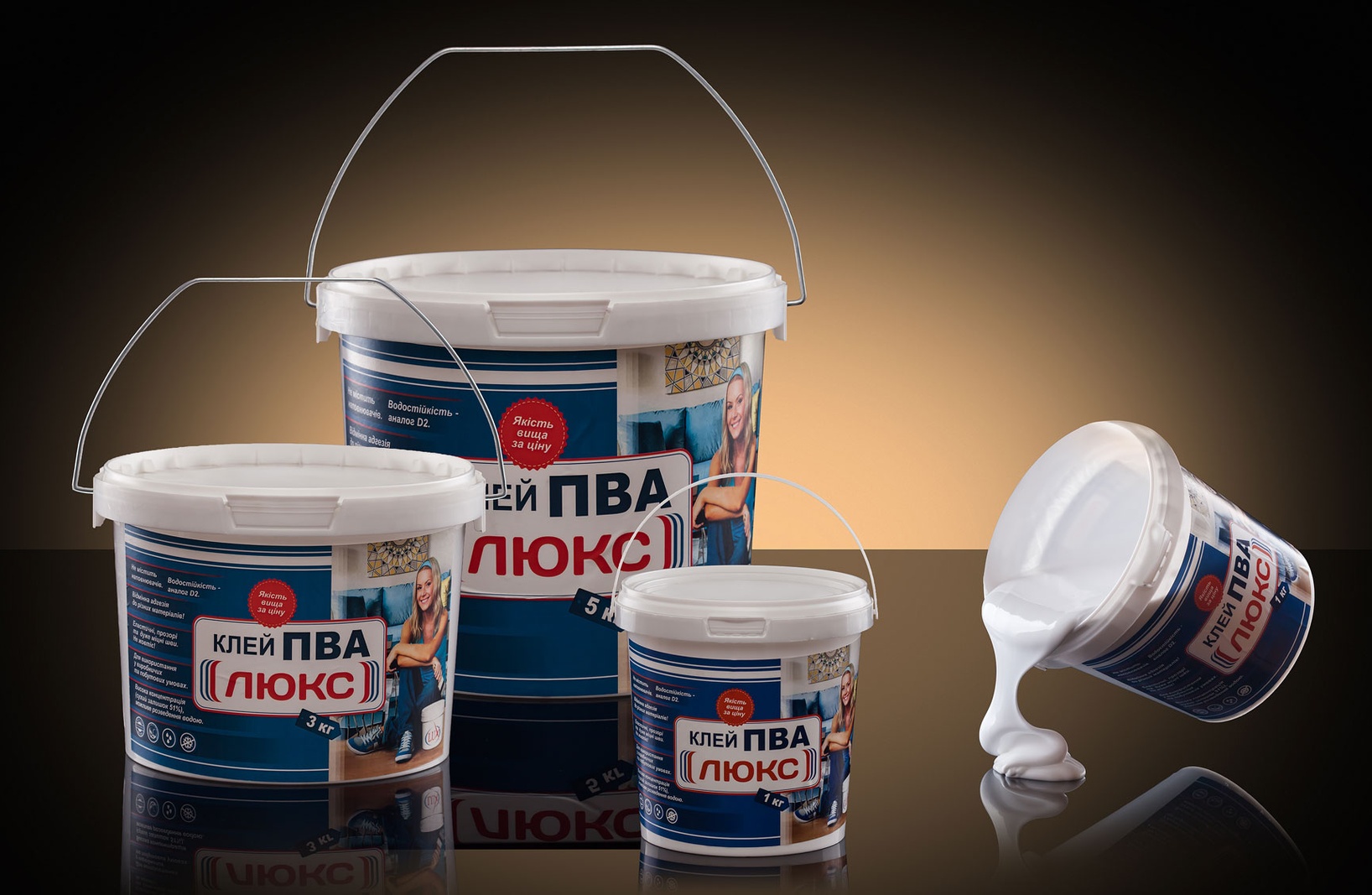 PVAc adhesive is widely used not only in domestic conditions, but also for industrial purposes: woodworking, building, printing, packaging, etc. In addition to PVAc adhesives, SPE «LUX-X» (LLC) produces PVAc dispersion. It is often used for industrial purposes, as it has a high level of adhesive ability and frost resistance. Thus, PVAc "Lux" adhesives are suitable for both professionals and home use.
Applications:
Woodworking and furniture production: all kinds of assembly gluing, tonguing, bonding hard and soft wood, plywood, etc;
Various construction works, including bonding linoleum, facing tiles.
Textile industry: bonding different materials (leather, foam rubber and products on a fabric basis).
It is recommended as an additive in chalk and cement mortars, putties, water-based paints, etc.
Advantages of PVAc adhesive.
Suitable for domestic use and manufacturing.
High concentration of the main substance.
Elastic, transparent and high-strength adhesive bonds. It does not turn yellow!
Has a moisture resistance level of D2 and can be used in humid premises.
PVAc is applicable to use in hot and cold presses.
Before use, dilution with water to the required consistency is possible.
Excellent adhesion to different substrates.
Does not contain fillers.
Contains preservative additives.
Technical characteristics and properties of PVAc adhesive:
White viscous liquid, the glue film is colorless.
The adhesive joint is resistant to external factors.
Solid residue 51 %
Non-toxic, fire-safe, safe for health.
The warranty period of storage is one year from the date of production.
Prices for PVAc glue
| Container, kg | Price, UAH |
| --- | --- |
| 1 | 92,57 |
| 3 | 262,92 |
| 5 | 420,84 |
| 10 | 756,00 |
Applications of PVAc adhesive
Before using the adhesive, it should be thoroughly mixed. If necessary, dilution with water is possible immediately before use. Consumption of the adhesive depends on the application method and the substrates to be bonded.
It is necessary to prepare the surface, before cleaning it from dirt and dust. Apply a thin layer of adhesive to the surfaces to be bonded and allow it to stand for a while. After joining with another surface, it is necessary to press the parts to be bonded. After drying, the surfaces do not change color.
| Parameter | Indication |
| --- | --- |
| Viscosity (Rheotest, Z1, 2b, 20 °С), Pa*c | 80 - 100 |
| рН value | 4 ± 1 |
| Mass fraction of solid residue, % | 51 ± 2 |
| Open time | 3 - 8 |
| Consumption, g/m2 | 90 - 180 |
| Operating temperature, °С | +15… +35 |
| Storage | 1 year at a temperature of + +5 ... +25 ° C in a tightly closed container |
| Form of issue: | Polymer eurocontainers 1; 3; 5; 10; 20; 33; 1000 kg |
Where to buy adhesives?
To choose the TM of PVAc "Lux" adhesive properly, it is necessary to determine its purpose first thing. You can find PVAc adhesive you need, get the best price for PVAc and order it in the required quantity at any time on our website. Specialists of the company are ready to provide qualified advice. Free delivery of industrial volumes is carried out to any region of Ukraine in a short time.