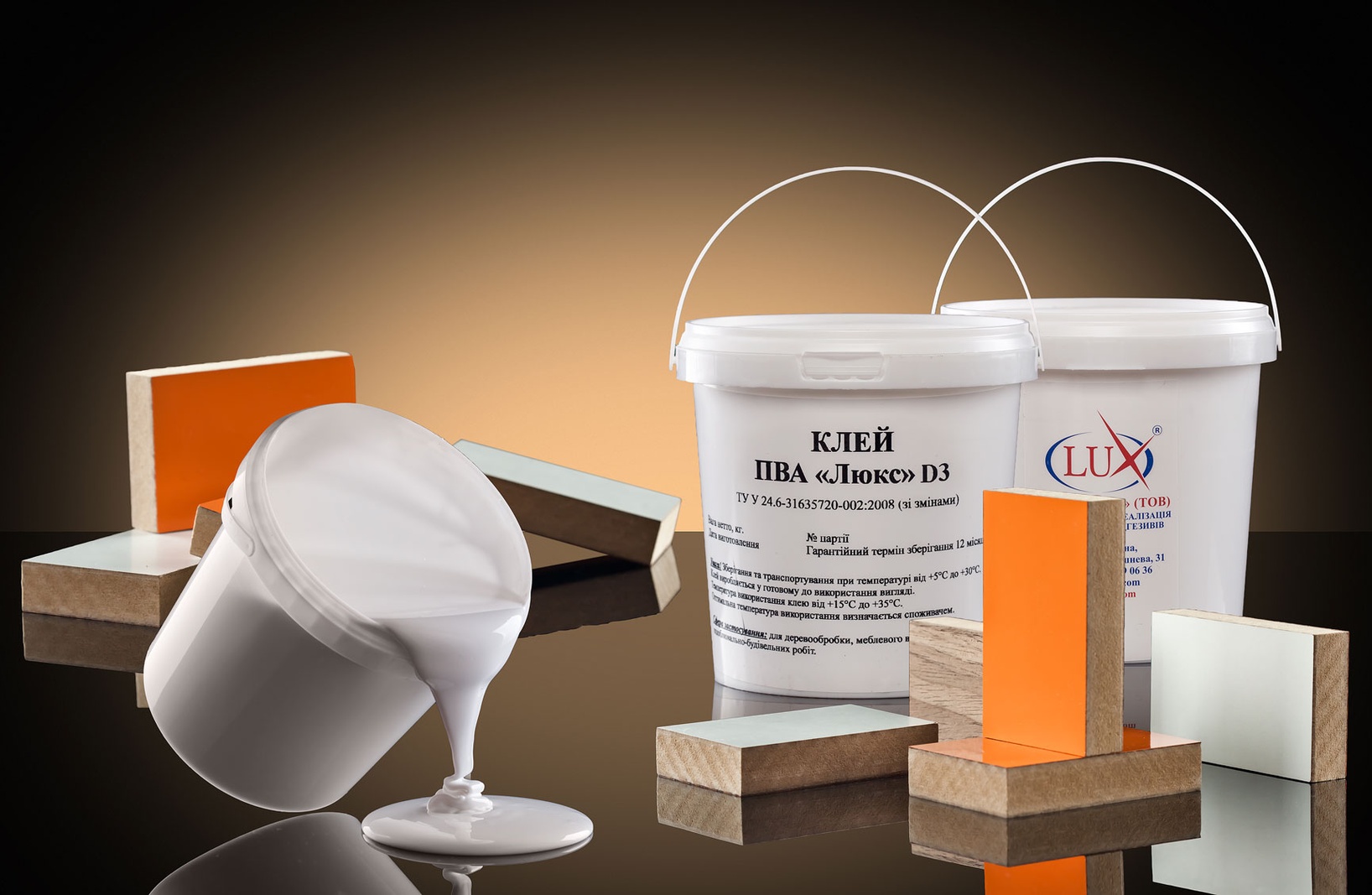 SPE "Lux-Х" (LLS) specializes in the production of adhesive materials and components, which include water resistant PVAc "Lux" D3 adhesive already for twenty years.
As well as all modifications of water resistant PVAc "Lux" D3 adhesive is produced on the basis of polyvinyl acetate and other auxiliary elements and additives, which allows adhesive line to obtain properties and characteristics correspondent to high class of water resistance according to NSU BV.2.6-170:2011 (D3 analogue).
Spheres of PVAc "Lux" D3 adhesive application:
Woodworking and bonding of hard and soft wood.
In furniture industry when bonding wood elements.
When bonding laminate and plywood.
When carrying out work using wood laminate, fiberboard, MDF.
PVAc "Lux" adhesive characteristics
One of the most spread methods of "Lux" D3 adhesive application is binding of wood surfaces with a large square of contact. Due to the unique formula it is excellent for furniture wrapping, worktops laminating, etc.
PVAc "Lux" D3 adhesive is applicable in the terms of binded products indoors, which can be exposed to long-term high humidity exposure or not long-term exposure of flowing or condensed water.
Adhesive is applicable for flow machine application with rollers or nozzles as well as manual application. It is intended for usage in presses of hot and cold presses.
PVAc "Lux" D3 adhesive by its appearance is white liquid, which film becomes transparent when dry. This product is produced in polymeric containers with a volume of 20 to 1000 kg. When buying TM "Lux" adhesives our specialists guarantee possibility of technological and informational support obtaining, which consists in consultations about the usage of adhesive products, also on-site consultants are available for testing. Free delivery is available from 30 kg.
For detailed consultation with our managers you can call the hotline number (057) 719-06-36 or leave questions of interest for you in the form of feedback.
| Parameter | Indicators |
| --- | --- |
| Viscosity (Rheotest, Z1, 2b, 20 °С), Pa*s | 10 - 30 |
| рН value | 5 ± 1 |
| Mass fraction of dry residue, % | 51 ± 2 |
| Time of open exposure, min | 3 - 10 |
| Expenditure, g/м2 | 90 - 180 |
| Operation temperature, °С | +15… +35 |
| Storage | At the temperature from + 5… +30 °С in a tightly closed container |
| Production form | Polymer euro containers from 20 to 1000 kg |
Cost of glue PVAc D3
Dear Clients! Details on the availability of goods, wholesale and retail prices for PVAc D3 glue please contact our managers by phone or e-mail.