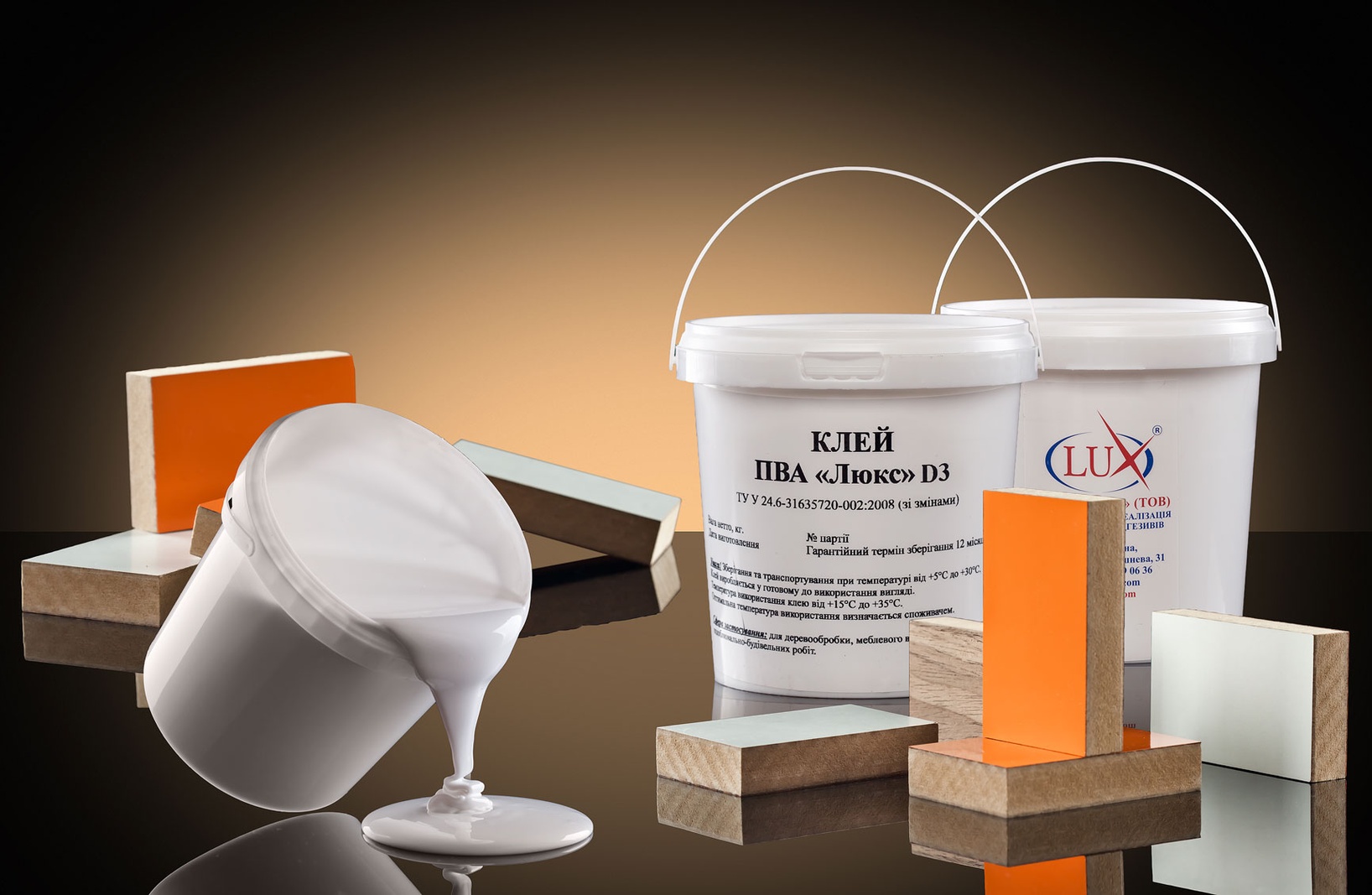 Scientific and Production Enterprise «Lux-X» (LLC) has been specializing in producing adhesive materials and components, including waterproof adhesive PVAc "Lux" D3 for twenty years.
The modified water-soluble adhesive based on polyvinylacetate dispersion, polymerization accelerators, hardeners, stabilizing and preserving additives. Made from high quality European raw materials in accordance with EU requirements. Corresponds to the waterproof class D3.
Applications of PVAc "Lux" D3 Adhesive:
When processing wood and gluing hard and soft wood.
In the furniture industry when bonding wood elements.
When gluing laminated coatings and plywood.
When carrying out work using chipboard, fiberboard, MDF, etc.
PVAc "Lux" D3 Adhesive characteristics
One of the most common methods of applying "Lux" D3 adhesive is bonding wooden surfaces with a large area of contact. Due to a unique formula, it is perfect for dressing furniture, laminating worktops, etc.
PVAc "Lux" D3 adhesive is applicable in conditions of using bonded products indoors, which can be exposed to long-term exposure to high humidity or non-prolonged action of running or condensed water.
Adhesive is used for in-line machine application with rollers or nozzles, as well as with manual application. It is intended for use in hot and cold pressing.
In its appearance, PVAc "Lux" D3 adhesive is a white liquid; its film becomes transparent when dried. This product is produced in polymer containers from 20 to 1000 kg.
| Parameter | REGISTRATION |
| --- | --- |
| Viscosity (Rheotest, Z1, 2b, 20 °С), Pa*s | 10 - 30 |
| рН value | 5 ± 1 |
| Mass fraction of solid residue, % | 51 ± 2 |
| Open time | 3 - 10 |
| Consumption, g / m2 | 90 - 180 |
| Operation temperature, °С | +15… +35 |
| Storage | At a temperature of + +5 ... +25 ° C in a tightly closed container |
| Form of issue: | Polymer eurocontainers from 20 to 1000 kg |
Where to buy adhesives?
When buying adhesives of LuxTM our experts guarantee the receipt of technological and information support. If necessary, technologists can come for testing. When buying over 30 kg, free delivery of the whole range of products on the territory of Ukraine is carried out. For detailed advice from our managers, you can call the hotline (057) 719-06-36 or leave questions in the feedback form.