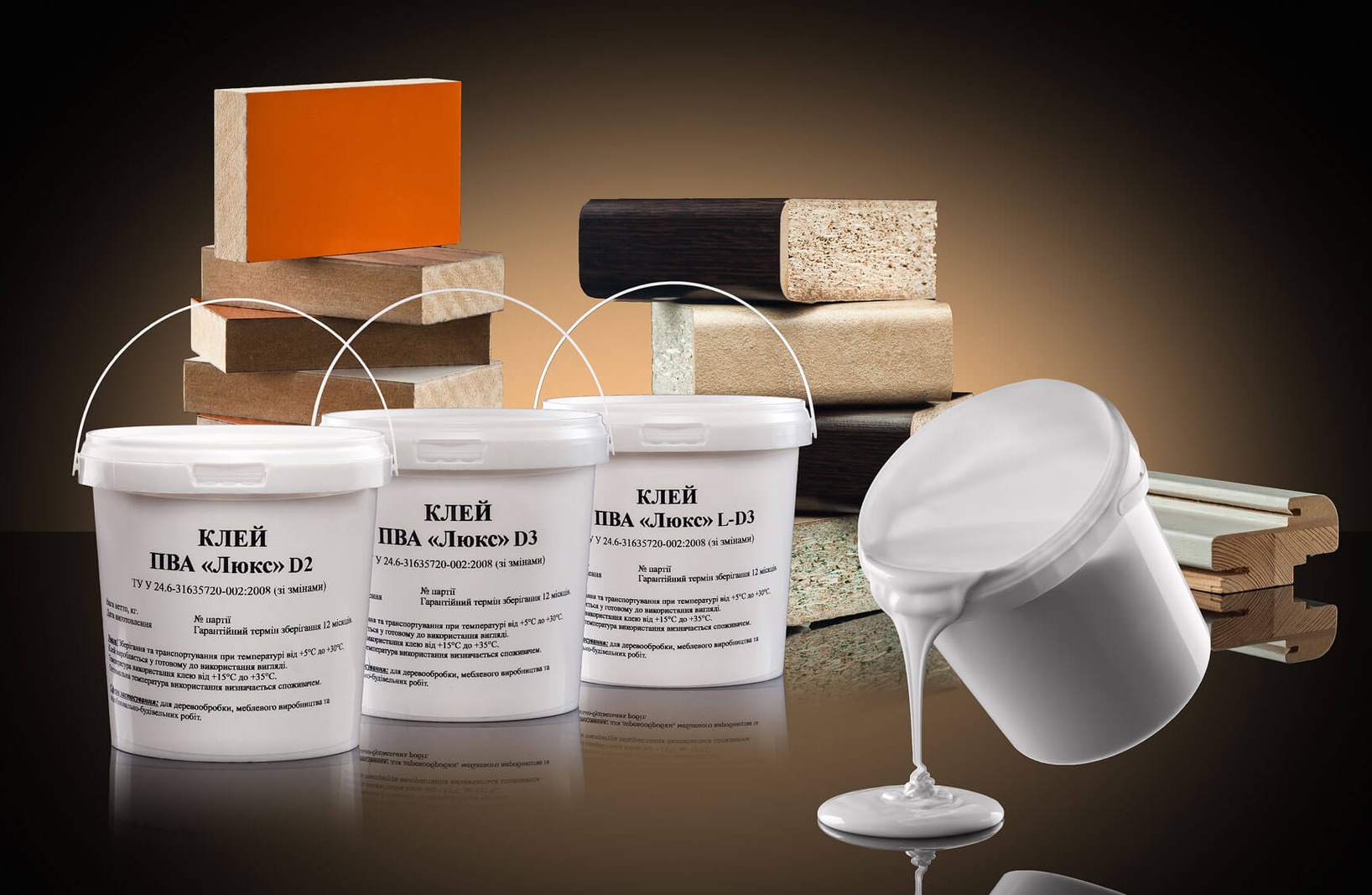 PVAС glue with D2; D3 and D4 water resistance class are the most popular among manufacturers and many experts consider PVAС glue to be the best for wood. The glues based on polyvinyl acetate are excellent for gluing wood surfaces as a furniture or carpentry glue.
Benefits:
Becomes transparent after drying.
Easy application.
Flexible adhesive film.
High strength.
Multi-purpose.
Non-toxic.
Rapid drying.
Sufficiently long shelf life.
Low price compared to other adhesives.
How to choose wood glue?
To choose the most optimal glue for your woodworking production, it is necessary to take into account several factors that will help to choose the type and brand of glue:
A type of glue application: manual or with the help of special equipment.
A type of materials to be glued (for example, for gluing wood, joinery, plywood, fiberboard, chipboard, laminates, etc.).
In what conditions the glued products will be used: indoor or outdoor.
All of the above points are mandatory when selecting glue, they need to be announced to our specialists and they will select the right brand for you. Our consultants will gladly answer all questions and help you understand the products presented.
Optimum conditions and application in accordance with water resistance classes in accordance with DIN EN 204:
D1. Indoors where the temperature only sometimes exceeds 50 °C for a short time and the moisture content of the wood does not exceed 15%.
D2. Indoor premises with periodic short-term exposure to running or condensed water and/or accidental exposure to high humidity, provided that the moisture content in the wood does not exceed 18%.
D3. Indoors with frequent short-term exposure to running or condensed water and/or strong exposure to high humidity where the external areas are not exposed to weather conditions.
D4. Indoor premises with frequent long-term exposure to running or condensed water where the external areas are exposed to weather conditions.
Where to use PVAС waterproof glue?
Bonding of soft, hard and noble wood.
Bonding of carpentry products (windows, doors, etc.).
Bonding of floor coverings.
Bonding of any species of wood, plywood, MDF, chipboard, fiberboard.
Bonding of wooden surfaces that are used in damp areas: kitchens, bathrooms, etc.
Waterproof "Lux" PVAС glue
One-component adhesives based on a modified aqueous dispersion of polyvinyl acetate.
Water resistance - analog of class D2 and D3.
For indoor premises that are exposed to short-term effects of running or condensed water and/or long-term exposure to high humidity.
For gluing furniture and structures inside the premises, paneling, doors, windows, steps, stairs made of wood materials.
Water resistance and strength of adhesive joints are confirmed by the Unified State System of Certification and Standardization in Ukraine certificate.
After holding in cold water for 48 hours and then boiling for 3 hours, bonded parts have an average strength limit of 10.4 MPa, with a minimum allowable 3.2 MPa.