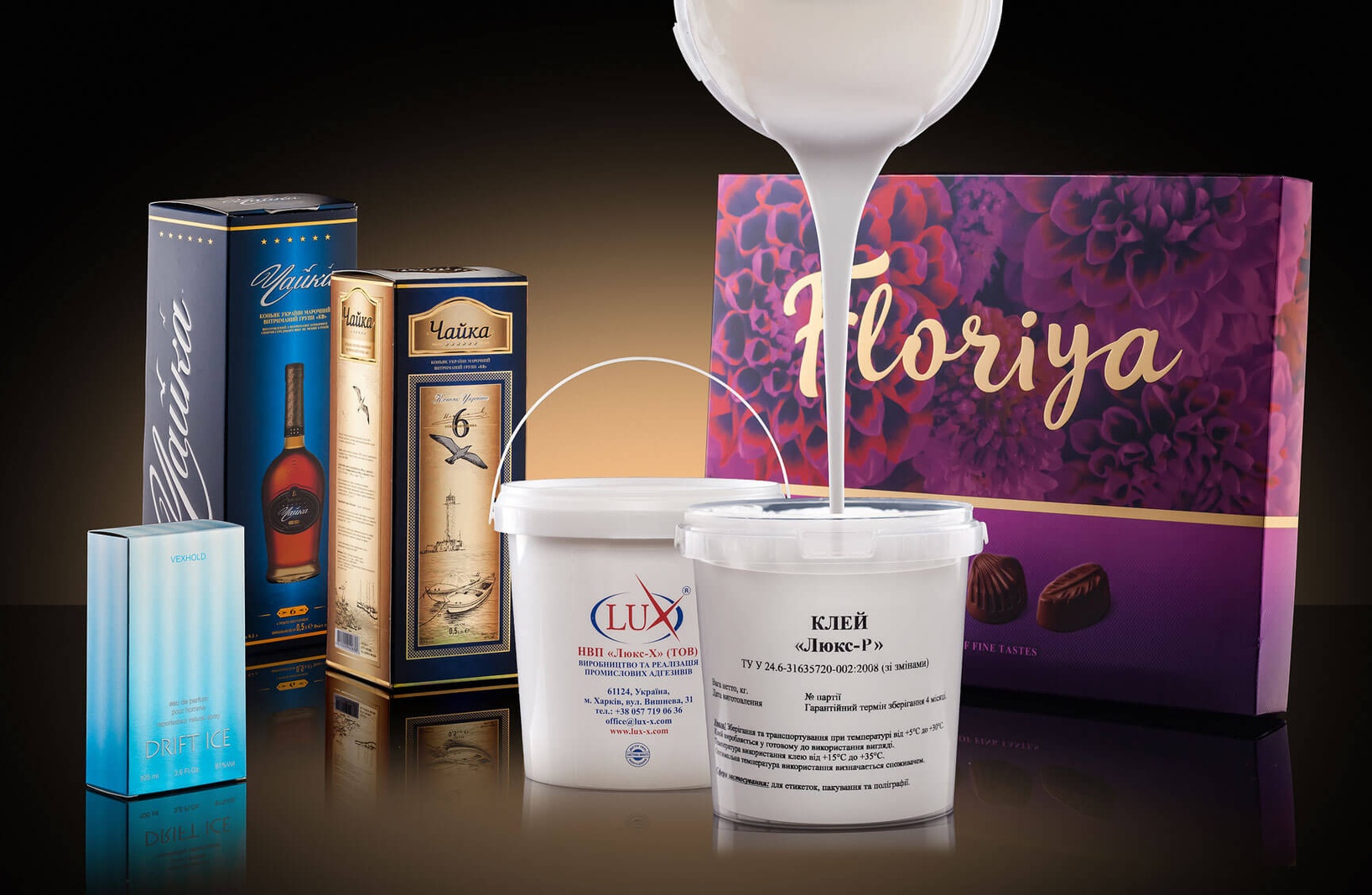 Despite the development of modern technologies, cardboard packaging, due to its economy and environmental friendliness, remains popular in the market of manufacturers up to date. Therefore, the use of high-quality glue is of particular importance, where the main indicator is the adhesive strength. Among a wide range of adhesives LuxTM we can identify:
Adhesive for cardboard.
Adhesive for cardboard and winding containers.
Adhesive for paper bags.
Adhesive for corrugated boxes.
Where is adhesive for packaging used?
Recently, manufacturers of different groups of goods are trying to pack their products in polymer packaging because of the possibility to extend the shelf life of the products produced. Nevertheless, materials such as paper and cardboard still remain popular for industrial packaging of goods due to their reliability, environmental friendliness and relatively low price.
There are a lot of varieties of packaging, as well as its applications. We list some types of packaging, where the glue of LuxTM is applied: cardboard and paper packaging for use in alcoholic, perfumery, souvenir, confectionery and other spheres; cardboard winding containers: drums, sleeves, spools, tubes of cardboard; bonding corrugated boxes and paper bags.
Adhesive for packaging production of SPE "Lux-X" (LLC) meets the main requirement when gluing cardboard and paper products; it provides a break not along the adhesive seam, but along the paper fibers, thereby ensuring the quality of the packaging.
Adhesive for corrugated boxes and cardboard
An important attribute when delivering, transporting, transporting heavy or fragile goods is quality packaging that will ensure the safety of the goods transported. To deserve the name of a reliable supplier of quality packaging among its customers, it is important to choose a quality and reliable adhesive. Experts of SPE «LUX-X» (LLC) will help you with this. Adhesives for corrugated cardboard and boxes of LuxTM, are in great demand and trust among leading Ukrainian packaging manufacturers.
Among a wide range of LuxTM adhesives, the company's specialists will help you to choose a glue for packing that you need, which will fully meet the requirements of the materials to be bonded and the equipment used.
For more detailed information about the products of SPE «LUX-X» (LLC), which includes technical specifications, cost, terms of delivery and payment, you can find out if you call the hot line or send a request by filling out the form on the website.