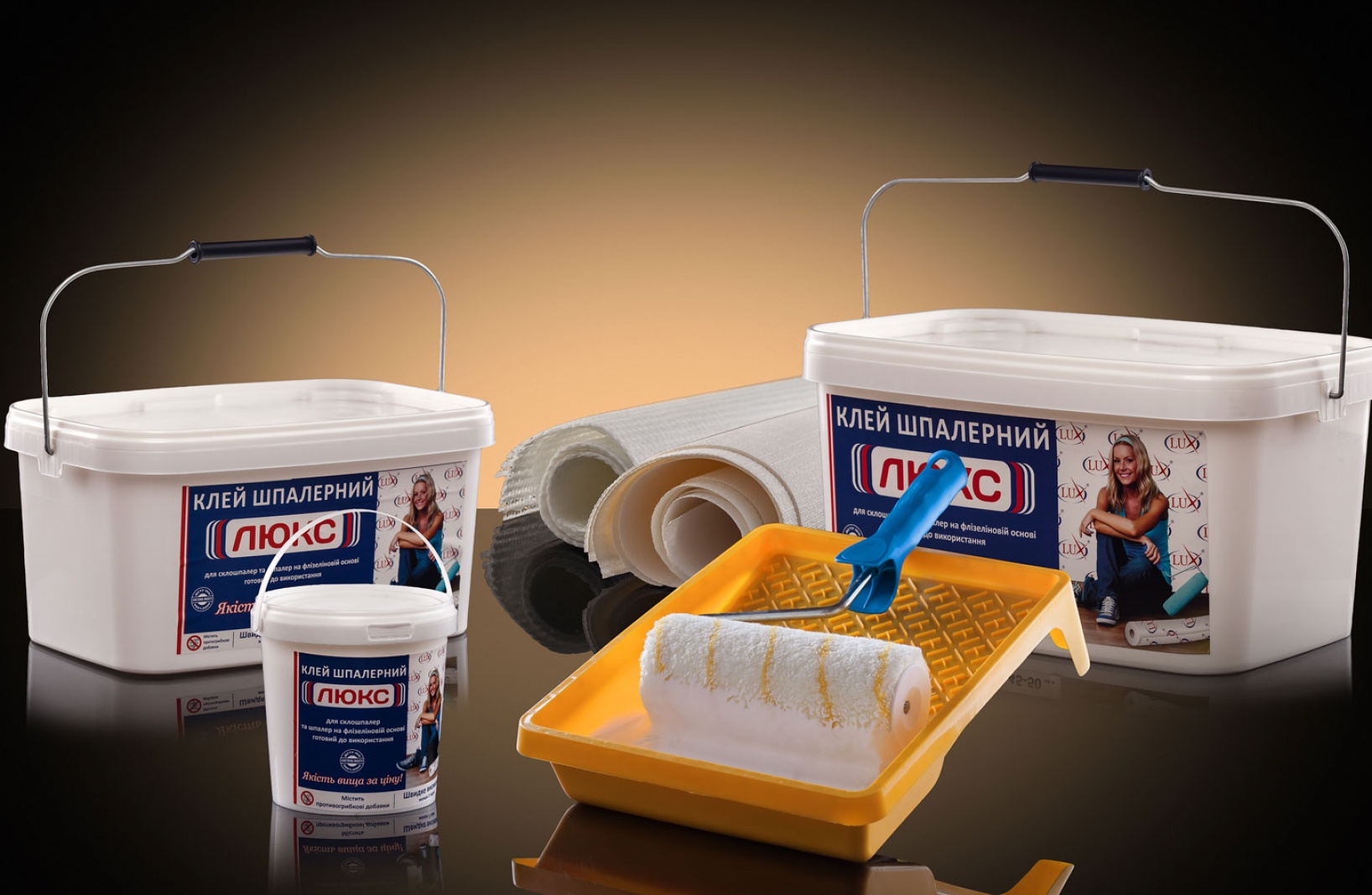 An important indicator of wallpaper quality adhesive is high adhesion, which allows you to quickly grab and hold any type of wallpaper on the wall throughout the life of the product. Thus, wallpaper adhesive, although not visible, but plays an important role in the design of any room, ensuring the quality and durability of any repairs. Also, the wallpaper adhesive must be environmentally friendly and safe for health. Wallpaper "Lux" has all these properties.
The wallpaper adhesive is used for all types of wallpaper and wall coverings:
Wall-paper
Glass-fibre mat
Vinyl, non-woven, textile and other wallpaper.
Wallpaper adhesive "Lux" is a ready-to-use water-soluble adhesive on a polymer basis. Contains stabilizing, antifungal and anti-mold additives. Due to its moisture resistance, it can be used as an adhesive for gluing wallpaper, fiberglass and glass wool in rooms with high humidity.
Advantages of "Lux" wallpaper adhesive
Wallpaper adhesive is safe for health.
Excellent moisture resistance.
High adhesive capacity.
Effective antifungal protection.
Properties
White viscous liquid, the glue film is colorless.
Fireproof, non-toxic, safe for health.
It is allowed to freeze, can withstand 5 freezing cycles.
Prices for wallpaper glue "Lux"
| Container, kg | Price, UAH |
| --- | --- |
| 1 | 64,50 |
| 5 | 294,00 |
| 10 | 540,00 |
Application Instructions
The surface of the wall must be dry, clean, firm. Cracks should be plastered. The surface painted with glossy paint must be cleaned with a metal brush. Absorbent surfaces should be primed with adhesive diluted with water in the ratio: 1 part of the adhesive in 2 parts of water (add water to the glue in small portions with stirring). Relative air humidity in the room should not be more than 70%, the air temperature in the room from +10 ° С to +30 ° С. Do not allow drafts when sticking the wallpaper.
How to glue fiber glass and non-woven wallpaper?
It is necessary to stir the adhesive before use. Apply the adhesive to the surface of the wall with an even layer of a roller or a serrated spatula, then firmly press the fiberglass cloth immediately after applying adhesive to the wall and smooth with a spatula from the middle of the piece to its edge. Adhesive does not need to be applied to fiber glass wallpaper. The wallpaper can be adjusted for 15-20 minutes. Fresh glue can be removed with a damp cloth or sponge. Do not allow direct sunlight to hit the surface of the wallpaper during the glue drying period. Painting the wallpaper should be carried out no earlier than 24 hours after their gluing.
Vinyl and Textile Wallpaper
Before use, the adhesive can be 10% diluted with water and mixed. The adhesive should be applied with a roller on the back of the wallpaper and leave to get wet for 5 minutes. Follow the instructions given by the manufacturers of these wallpapers.
| Parameter | REGISTRATION |
| --- | --- |
| Viscosity (Rheotest, Z1, 2b, 20 °С), Pa*c | 180 - 200 |
| pH value | 6 ± 1 |
| Mass fraction of solid residue, %: | 14 ± 2 |
| Drying time | 3 hours under normal conditions |
| Consumption, g / m2 | 180 - 250 |
| Storage | 2 year at a temperature of + +5 ... +25 ° C in a tightly closed container |
| Form of issue: | Polymer eurocontainers 1; 5; 10; 30 kg. |
How to buy "Lux" wallpaper adhesive?
You can get the best price for "Lux" wallpaper adhesive and order it in the required quantity on our website. Specialists of the company are ready to provide qualified advice. In production quantities, there is a flexible system of discounts and free delivery to any region of Ukraine in a short time.