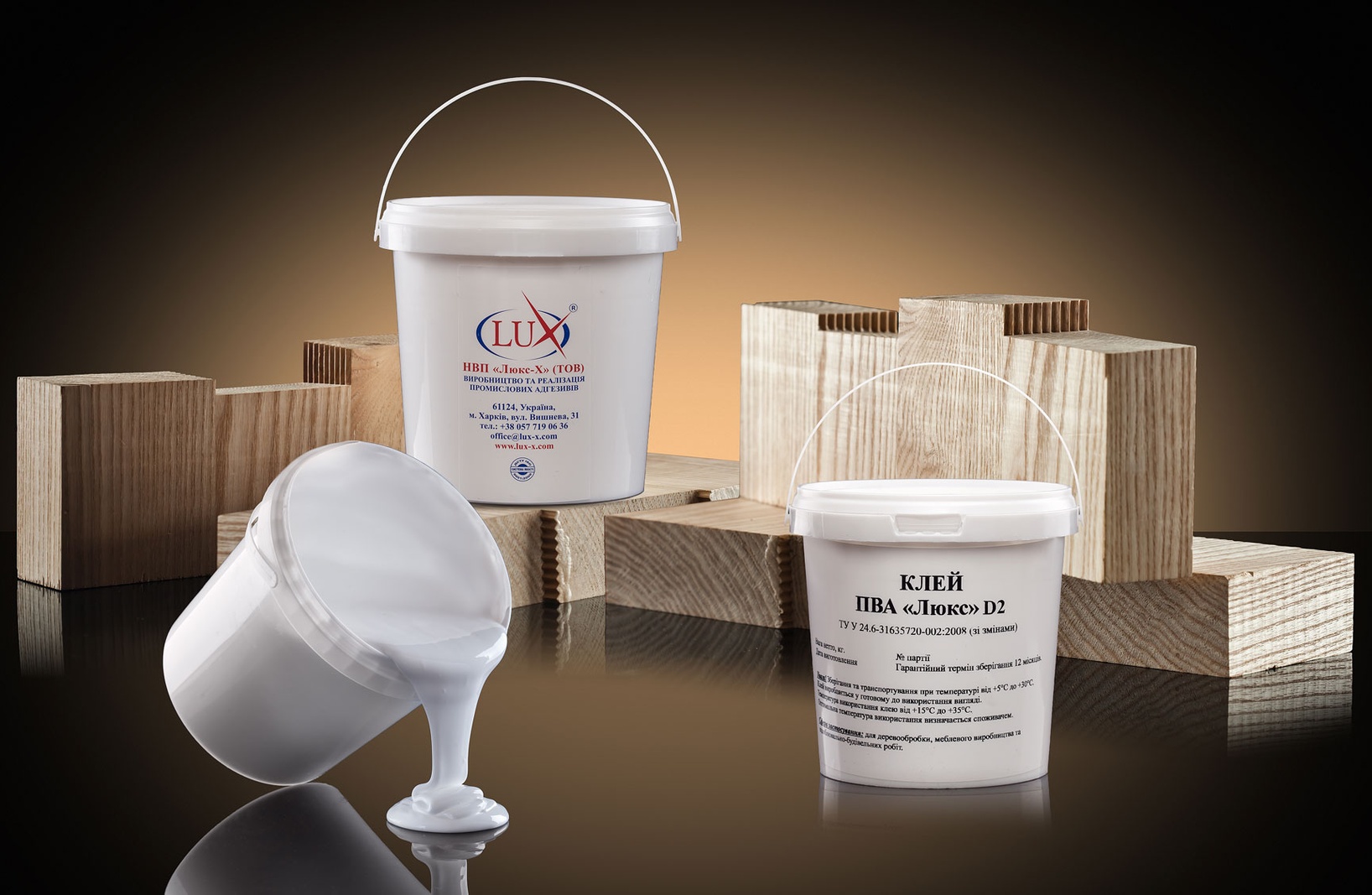 SPE "Lux-Х" (LLS) is most influential Ukrainian manufacturer and supplier of high-quality adhesive. We present water resistant PVAc "Lux" D2 adhesive, which is based on polyvinyl acetate dispersion and other components, including solidifier, stabilized and preservative agents. Adhesive line corresponds to the requirements of water resistance according to NSU BV. 2.6-170:2011, D2 analogue.
Application of PVAc «Lux» D2 adhesive:
for woodworking production: bonding of different wood parameters;
for production of wooden and derived components furniture;
for building, repair works, addition to various solutions, etc.
PVAc "Lux" D2 adhesive characteristics
PVAc "Lux" D2 is used indoors. Does not have strong smell and is absolutely safe for human health. Is resistant to short-term exposure of flowing water, condensate, ultraviolet radiation and other external factors.
Is applicable for flowing method of application, is suitable for application with roller and disc machines. It is intended for usage in presses of hot and cold press as well as manual application.
Appearance is white liquid, which becomes transparent, adhesive film is not visible in lines of bonded surfaces.
During purchase of TM "Lux" adhesives our specialists guarantee obtaining of technologic and information support. If necessary on-site consultants are available for testing. Free delivery of all present products assortment is available from 30 kg on the territory of Ukraine.
For detailed consultation with our managers you can call the hotline number (057) 719-06-36 or leave questions of interest for you in the form of feedback.
| Parameter | Indicators |
| --- | --- |
| Viscosity (Rheotest, Z1, 2b, 20 °С), Pa*s | 80 - 110 |
| рН value | 4 ± 1 |
| Mass fraction of dry residue, % | 51 ± 2 |
| Time of open exposure, min | 3 - 8 |
| Expenditure, g/м2 | 90 - 180 |
| Operation temperature, °С | +15… +35 |
| Storage | At the temperature from + 5… +30 °С in a tightly closed container |
| Production form | Polymer euro containers from 20 to 1000 kg |
Cost of PVAc «Lux» D2 adhesive
Dear Clients! Details on the availability of goods, wholesale and retail prices for PVAc «Lux» D2 adhesive please contact our managers by phone or e-mail.