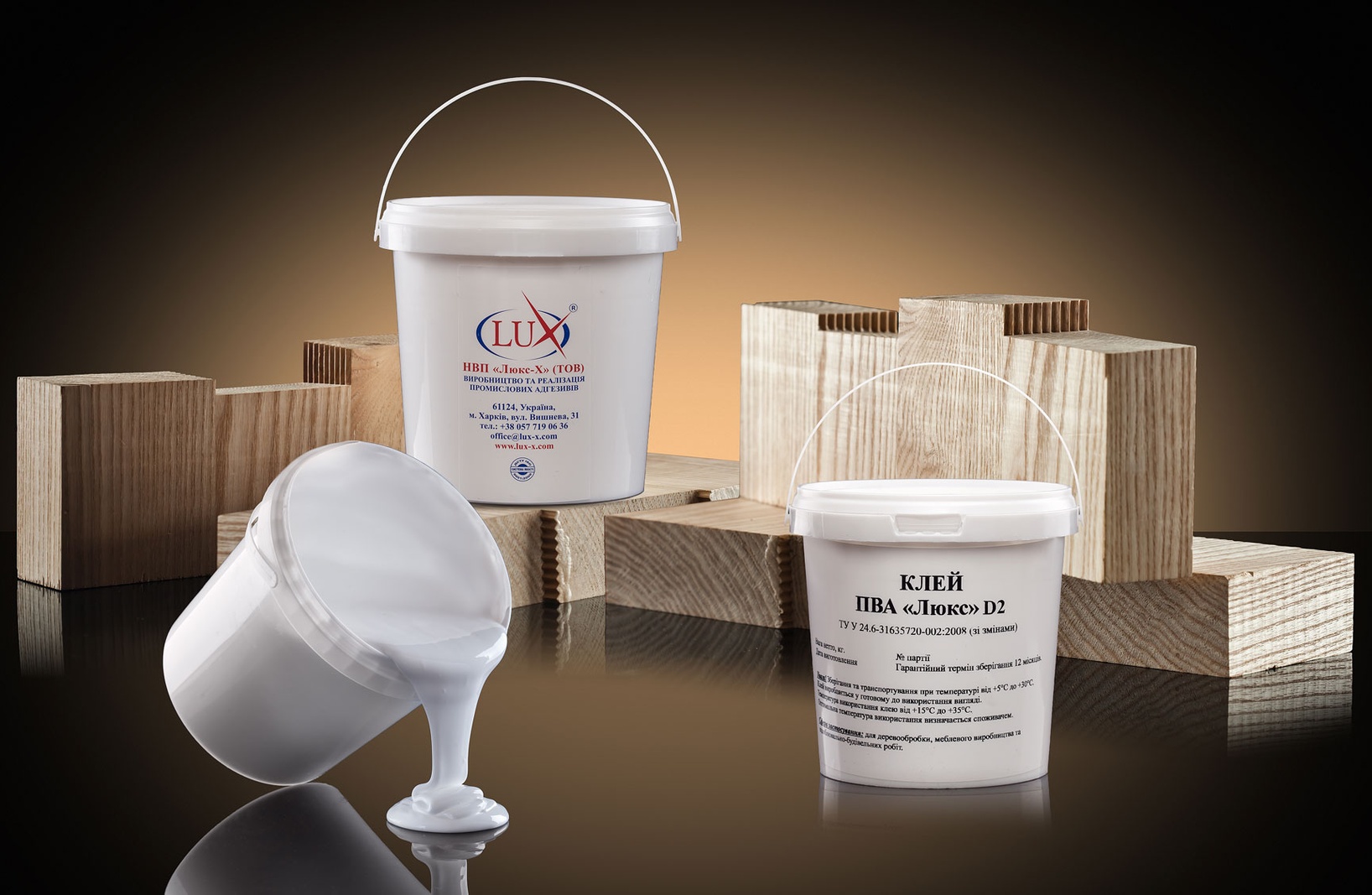 Scientific and Production Enterprise «Lux-X» (LLC) is the largest Ukrainian producer and supplier of high-quality adhesives. We represent the waterproof PVAc "Lux" D2 adhesive, based on polyvinyl acetate dispersion and other components, including hardeners, stabilizing and preserving additives. The adhesive seam meets the requirements of water resistance of the State Standards of Ukraine БВ.2.6-170:2011, analogue of D2.
Applications of PVAc "Lux" D2 adhesive:
In the woodworking industry for gluing wood of various types.
In manufacturing furniture from wood and derived components.
In building, repair work, adding to various solutions, etc.
PVAc "Lux" D2 Adhesive characteristics
PVAc "Lux" D2 Adhesive is used indoors. It has no sharp odor and is absolutely safe for human health. Resistant to short-term exposure to running water, condensate, ultraviolet radiation and other external factors.
It is used for the flow application method, suitable for roller and disk machines. It is intended for use in hot and cold pressing, as well as manual application.
Its appearance is white liquid, which becomes transparent when dried, the adhesive film is not visible in the seams of the surfaces to be bonded.
| Parameter | INDICATION |
| --- | --- |
| Viscosity (Rheotest, Z1, 2b, 20 °С), Pa*s | 80 - 110 |
| рН value | 4 ± 1 |
| Mass fraction of solid residue, % | 51 ± 2 |
| Open time | 3 - 8 |
| Consumption, g / m2 | 90 - 180 |
| Operation temperature, °С | +15… +35 |
| Storage | At a temperature of + +5 ... +25 ° C in a tightly closed container |
| Form of issue: | Polymer eurocontainers from 20 to 1000 kg |
Where to buy adhesives?
When buying adhesives of LuxTM, our experts guarantee the technological and information support. If necessary, technologists can come for testing. When buying over 30 kg., free delivery of the whole range of products on the territory of Ukraine is carried out.
For detailed advice from our managers, you can call the hotline (057) 719-06-36 or leave the questions that interest you in the feedback form.